Vitamin C benefits top 5 for health nutrients deficiency causes and symptoms
Vitamin C
Functions of vitamin C
Vitamin C (ascorbic acid) is a water soluble vitamin. This essential nutrient is a cofactor in at least eight enzymatic reactions, including several collagen synthesis reactions that, when dysfunctional, cause the most severe symptoms of scurvy.
Vitamin C promotes heaving of wounds and prevents bleeding from capillaries. It is an excellent antioxidant and prevents many harmful medical conditions. It is required for many metabolic reactions.
Medical conditions caused by vitamin C deficiency
Vitamin C deficiency causes scurvy. Fatigue, mood swings, joint pain, dry skin, weight loss, bruising, muscle pain, dental conditions, dry hair and infections are some signs of vitamin C deficiency.
Scurvy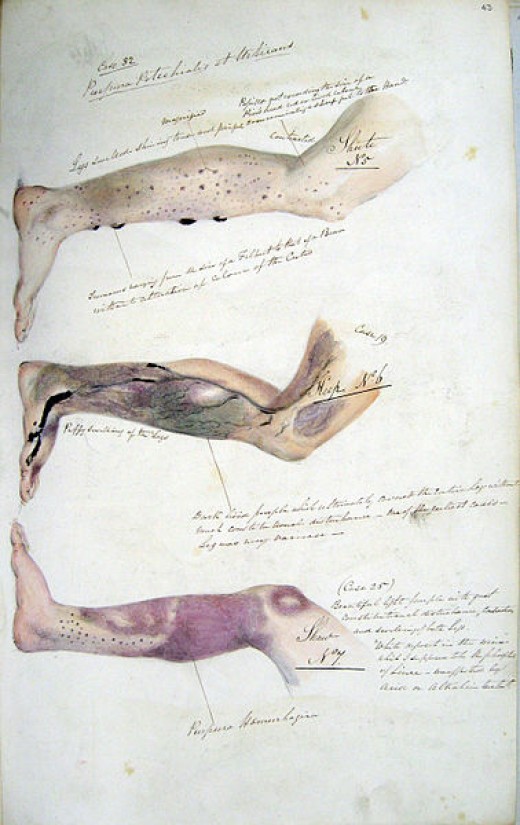 Natural sources of vitamin C
Red hot chili peppers, guava, green hot chili peppers, bell peppers, fresh herbs (like thyme and parsley), dark leafy greens (like garden cress, kale and mustard greens), broccoli, cauliflower, Brussels sprouts, kiwi fruits, papaya, strawberries, oranges, mango and clementines are very good sources of vitamin C.
Vitamin C Deficiency Symptoms
A deficiency in vitamin C shows itself in several common ways in the body. While the signs and symptoms of Vitamin C deficiency are not too
bothersome, the results of long-term low levels of vitamin C are very detrimental and worth making a priority. A severe vitamin C deficiency will result in scurvy, a disease resulting from the breakdown of collagen.
Scurvy will make you feel fatigued and lethargic. It affects bone and muscle strength and it stifles the immune system. Scurvy is rarely seen today, as only a very small amount of vitamin C is needed to prevent it.
Citrus was actually used in the 18th century in order to cure the two million sailors that were suffering from Scurvy. It is important to understand, however, that less noticeable signs of Vitamin C are still very serious such as:
Easy bruising
Swollen gums
Bleeding gums
Slow wound healing
Gingivitis (inflammation of the gums)
Dry and splitting hair
Dry red spots on the skin
Rough, dry, scaly skin
Nosebleeds
Weakened immune system
Digestive disorders like leaky gut and autoimmune disease
Possible weight gain because of slowed metabolism
Swollen and painful joints
Health problems related to a vitamin C deficiency can get much worse over time, and may lead to some serious health issues.
Long Term Problems from Low Levels of Vitamin C include:
High blood pressure
Gallbladder disease
Stroke
Certain cancers
Atherosclerosis
To get the most nutrition and Vitamin C from your fruits and veggies, there are a few easy tips to follow:  eat real foods that are uncooked and raw, make an effort to eat your fruits and vegetables soon after cutting them up, and steam fruits and veggies, instead of boiling them. As I always say, eating organic, raw fresh foods is your best possible source of nutrition.
Food in its natural state will provide your body with the most abundant source of nutrition, so even though many people choose to turn to supplements when looking to get more vitamins into their bodies, I want to emphasize that the best source of any vitamin, mineral, or nutrient is fresh, raw food sources.
Top 5 Health Benefits of Vitamin C
 1. Promotes Healthy Skin and Collagen Formation
A major study that involved over 4,000 women aged 40-74 found that higher vitamin C intakes can lower the likelihood of a wrinkled appearance, dryness of the skin, and can  help to naturally slow aging. Vitamin C is used to form an important protein used to make skin, tendons, ligaments, and blood vessels. It helps to heal your wound and it form scar tissue.
There is even some evidence that using vitamin C skin cream can decrease the amount and duration of skin redness following cosmetic skin procedures like wrinkle or scar removal. Maintaining healthy skin through a diet high in antioxidants is one important way to prevent skin cancer.
---
2.  Improves Mineral Absorption
For your body to receive the nutrients it needs to function properly, your digestive system must first take these nutrients from the food that you eat, or the supplements that you take, and then absorb them into your bloodstream.
Then your cells absorb these vitamins and nutrients and they help your body to in turn reduce inflammation and the development of disease. Taking vitamin C along with iron can increase how much iron the body absorbs in adults and children.
---
 3. Lowers Risk of Gout
Vitamin C is associated with lowering the risk of gout, which is Gout is a painful, arthritis type condition mainly afflicting the big toe. The big toe becomes stiff, inflamed and painful as a result of excess uric acid leading to crystals formed in joints.
In a long-term study of males over the age of 40, who took between 1,000 and 1,499 mg of vitamin C per day, their risk of gout was reduced by 31%. Participants who took over 1,500 mg of vitamin C per day have almost half the risk of getting gout. This is compared to those who did not take supplements.
---
 4. Fights Free Radical Damage
Vitamin C is one of many antioxidants that can protect against damage caused by harmful molecules called free radicals, as well as toxic chemicals and pollutants like cigarette smoke.
Free radicals can build up in the body and contribute to the development of health conditions such as cancer, heart disease, and arthritis. Free radicals are made when your body breaks down food or when you are exposed to smoke, tobacco, or radiation.
---
5. Fights off Colds and Flu
It has long been understood that vitamin C benefits your immune system and plays a large role in your body's ability to fight off colds and viruses. You can take 1000 mg of Vitamin C to fight off an oncoming cold and 4000 mg per day to get rid of a cold that is already in your system.
There is also good evidence that taking vitamin C for colds and flu can reduce the risk of developing further complications, like pneumonia and lung infections.
for more visit www.alsehhat.com
(Visited 14 times, 1 visits today)